Marseille Scooter City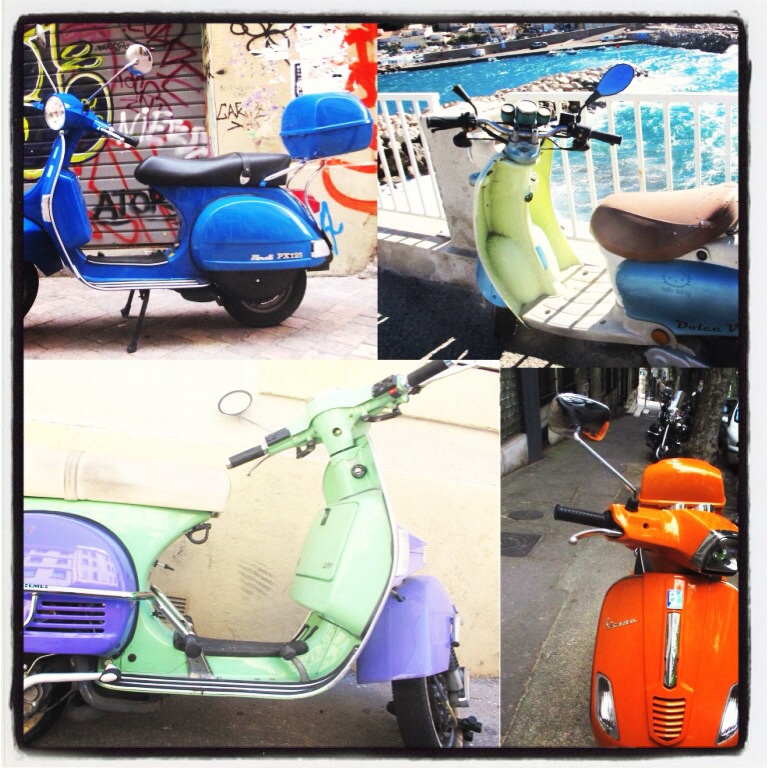 Marseille ist eine Stadt voller Scooters. Ich bin ein großer Fahrradfreund, habe mich aber in dem sehr hügeligen Marseille, dass manchmal sogar französisches San Francisco genannt wird, dazu hinreißen lassen, mir einen Scooter zuzulegen.

Marseille est une ville pleine de scooters. Je suis une grande fan du vélo mais Marseille est une cité très vallonée et parfois nommée La San Francisco de la France. Donc j'ai abandoné et j'ai acheté un petit scooter.  

Marseille is a city full of scooters. I am a huge fan of bicycles, however, given that Marseille is very hilly and sometimes even referred to as French San Francisco I gave in and bought a little scooter.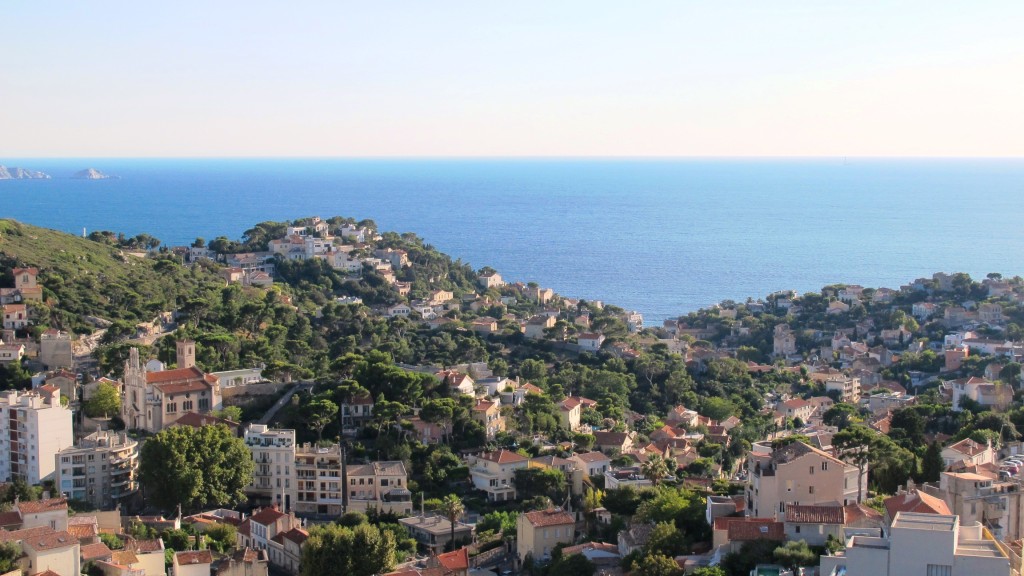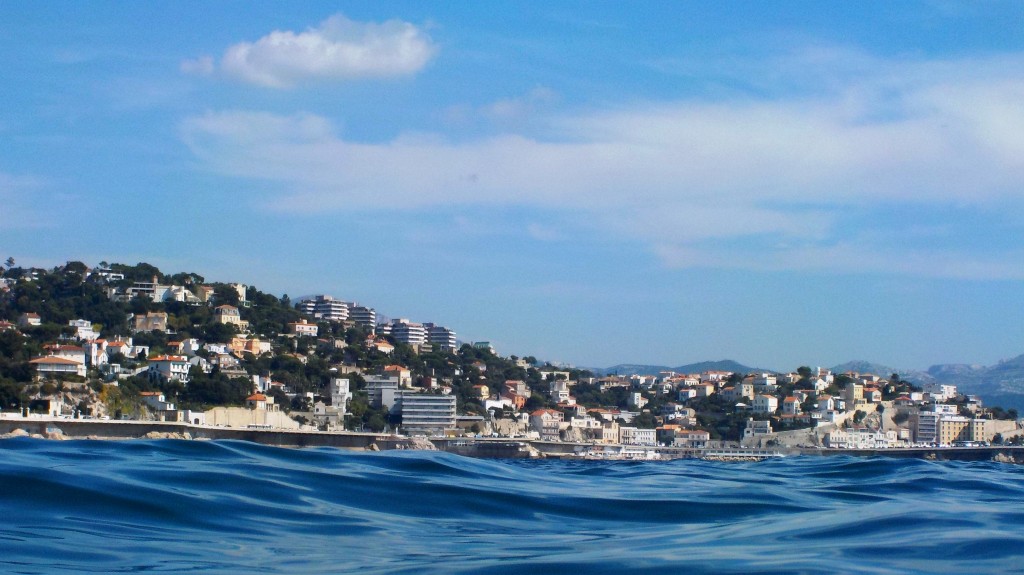 Auf diesen Fotos sieht man einige "bescheidene" Hügel von Marseille (von Notre Dame de la Garde und von meinem morgendlichen Schwimmen aus gesehen). Die Hügel heißen "Le Roucas Blanc" und "Bompard" und sind sehr reiche Wohngegenden. 

Ici vous pouvez voir quelques modestes collines de Marseille (vues de Notre Dame de la Garde et de mon bain matinal). Ce collines sont nommées "Le Roucas Blanc" et "Bompard". Ce sont des endroits residentiels très huppés. 

Here you can see some of Marseille's "humble" hills (seen from Notre Dame de la Garde and from my morning swim). These hills are named "Le Roucas Blanc" and "Bompard" and are very rich residential areas.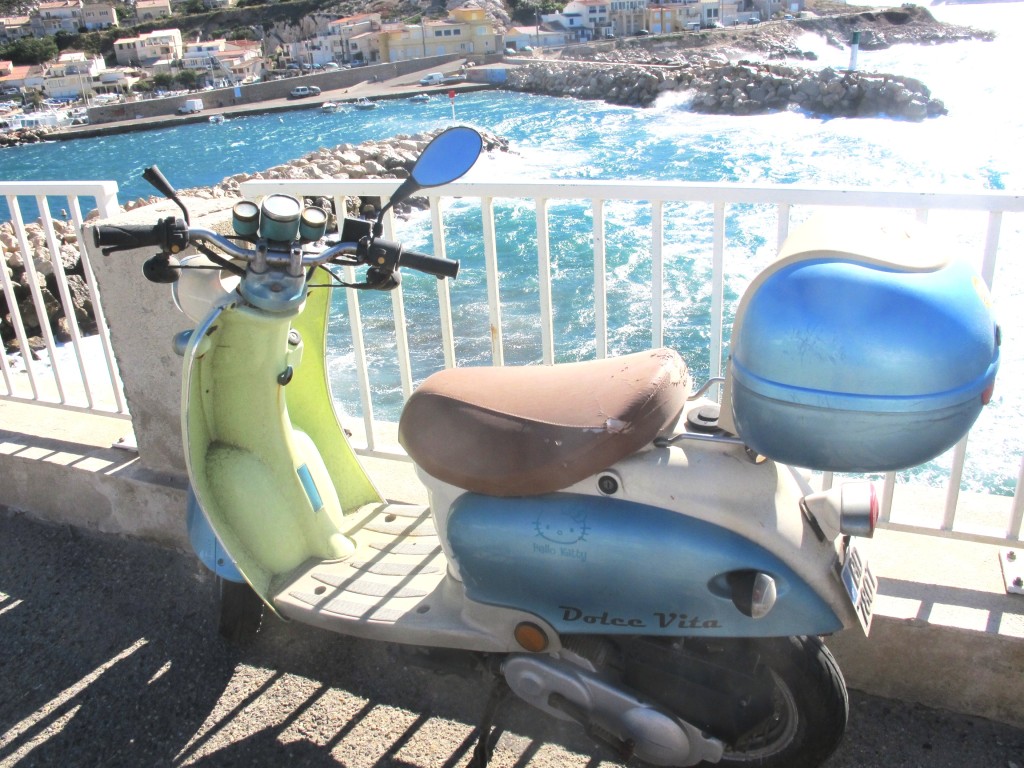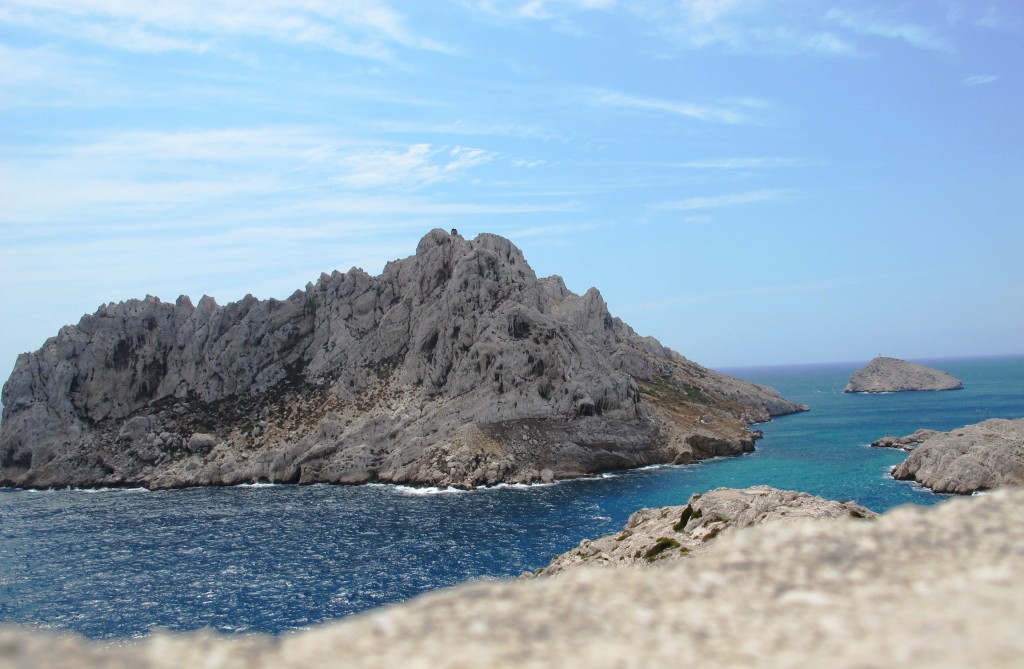 Einen Scooter zu fahren, kann am Anfang etwas furchteinflößend sein, aber sobald man das Verkehrskonzept in Marseille verstanden hat (kurz gesagt, jeder macht was er will) ist ein Scooter ein super Fortbewegungsmittel. Diese Vespa habe ich in Les Goudes gesehen, dem südlichen Ende Marseilles und Eingangstor zu den Calanques sowie einem guten Scooter Ausflugsziel. 

Conduire un scooter peut être angoissant au début mais une fois que vous avez compris le concept du traffic à Marseille (principalement tout le monde fait n'importe quoi) c'est un bon moyen de se deplacer. J'ai vu cette vespa aux Goudes qui limite Marseille au Sud et est une porte d'entrée vers les Calanques. Une grande destination à rejoindre en scooter. 

Riding a scooter can be a bit scary at first but once you understood the concept of traffic in Marseille (basically everybody does whatever they want) its a great means of transportation. I spotted this Vespa in Les Goudes the very southern end of Marseille and gateway to the Calanques and a great destination to go to on scooter. 

Ich habe ein etwas häßliches Modell gekauft, denn die schönen Vespas werden vom Fleck weg geklaut (die Versicherungspremien sind in Marseille die höchsten in ganz Frankreich). Ich bin auch die Einzige, mit einem integralen Motorradhelm und Handschuhen, sowie die Einzige die den Blinker benutzt. Trotzdem geht's in "Alle Richtungen"!
Was sind Eure Erfahrungen mit Scootern? Würdet ihr einen fahren? Ich freue mich von Euch zu hören…

Moi j'ai acheté un scooter un peu pourri car les vespas sont souvent volées (les prix de l'assurance à Marseille sont le plus haut de toutte la France). Je suis aussi la seule qui ne grille pas les feux rouge, porte un casque intégral, des gants et qui utilise les clignotants. Mais quand même  je peux aller dans "Toutes Directions"!
Quelle est votre experience en scooter? Aimeriez vous en conduire un? J'aimerais savoir….

I bought a slightly ugly scooter as the nice Vespa's are so often stolen (insurance premiums are the highest in all of France!). I am also the only one who is not ignoring red traffic lights, wearing a fully integral helment + gloves and making use of that indicator. Nevertheless "all directions" are possible!
What are your experiences with scooters? Would you ride one? I would love to hear….