La Piccoline – delicious home-cooked French food
Wer Lust auf leckere, französische Hausmannskost zum Mittagessen hat, is im Restaurant "La Piccoline" richtig. Dort hat man die Auswahl zwischen 2 bis 3 Vorspeisen, 3 bis 4 Hauptgerichten und Nachtischen und die Karte wechselt täglich.

Si vous avez envie d'un déjeuner français délicieux, fait maison "La Piccoline" (59 Rue des Trois Frères Barthélémy) est votre adresse. Vous avez le choix entre 2 ou 3 entrées, 3 à 4 plats et desserts. De plus la carte change chaque jour.

If you fancy a delicious home-cooked French lunch "La Piccoline" (59 Rue des Trois Frères Barthélémy) is the place to go.  You can choose between 2 to 3 starters, 3 to 4 main dishes and deserts and the menu changes daily.

Das Restaurant liegt in einer ruhigen Strasse, nur wenige Schritte von den belebten Plätzen "Cours Julien" und "La Plaine" entfernt. Man kann draußen sitzen, entspannen, die Aussicht genießen und ein wenig in die Gespräche um einen herum hereinhorchen. Als ich da war, sprach nahezu jeder über die kleine Siesta die nach dem Mittagessen geplant war.

Le restaurant est situé dans une rue calme à quelques minutes à pieds des endroits animés "Le Cours Julien" et "La Plaine". Vous pouvez vous installer en terrasse, vous détendre et profiter de la vue ou prêter une oreille aux conversations autour de vous. J'ai pu entendre là-bas presque tout le monde parler de la petite sieste suivant le déjeuner.

The restaurant is situated in a calm street only a few footsteps away from the busy squares "Cours Julien" and "La Plaine". You can sit outside, relax, enjoy the view, and eavesdrop a little on the conversations around you. When I was there pretty much everybody was talking about the little siesta they were planning to take afterwards.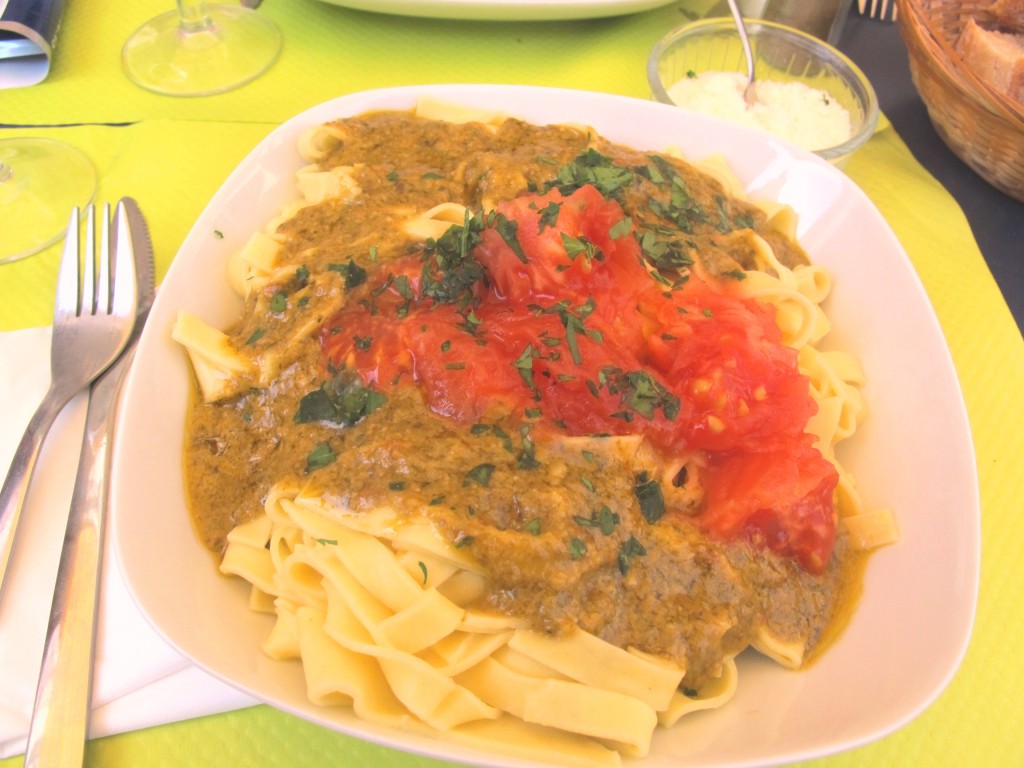 Ich hatte einen Endivien Salat mit Walnüssen und Comté als Vorspeise und die berühmten pâtes au pistou (Nudeln mit einer Art Pesto) als Hauptgericht. Es war super lecker.

J'ai mangé une salade d'endives avec des noix et du comté en entrée et les fameuses pâtes au pistou par la suite. C'était super goûteux.

I had an endive salad with cheese and walnuts as a starter  and the famous pâtes au pistou (pasta with a kind of pesto) as a main. It was super yummy!