Poisson le vendredi – Freitags gibt's Fisch – Friday's Fish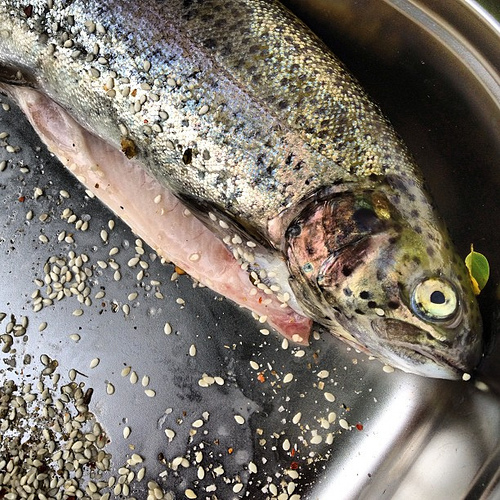 Photo Credit: barockschloss via Compfight cc
La Truite
Pendant mon voyage en train direction Cannes j'ai eu une conversation intéressante avec un mec français qui habite six mois de l'année à Dublin. Dublin est une ville superbe, nous en avons parlé; même s'il est difficile de comprendre l'accent irlandais.
Nous sommes aussi tombés d'accord qu'il est très difficile de lire un menu de restaurant dans une langue étrangère, notamment s'il s'agit d'un plat de poisson. Lorsque je commande du saumon ou du thon j'ai n'ai qu'une vague idée de ce qui va arriver dans mon assiette. Espérons que ça va changer avec la série "Poisson le vendredi".
Ici vous trouverez des idées pour accommoder la truite. Quelles sont vos recettes favorites pour préparer une truite?

Die Forelle
Auf der Zugfahrt nach Cannes hatte ich eine interessante Unterhaltung mit einem Franzosen, der sechs Monate pro Jahr in Dublin lebt. Wir fanden beide, dass Dublin eine tolle Stadt ist, auch wenn der irische Akzent manchmal nur schwer zu verstehen ist.
Wir waren uns außerdem einig, dass das Lesen von Restaurantkarten in einer Fremdsprache sehr schwierig sein kann, insbesondere wenn es sich um Fischgerichte handelt. Wenn ich nicht gerade Lachs oder Thunfisch bestelle, habe ich meistens nur eine vage Idee welcher Fisch genau auf meinem Teller landen wird. Mit der "Freitags gibt's Fisch" Reihe wird sich das hoffentlich ändern….
Hier findest Du ein paar Ideen für Forellenrezepte. Was sind Deine Lieblignsforellenrezpte?

Trout
On my train ride to Cannes I had an interesting conversation with a French guy who is spending half of the year in Dublin. We were chatting about how much we both like that city despite the challenge of understanding the Irish accent.
We also agreed that reading restaurant menus in a foreign language can be difficult especially when it comes to fish dishes. Unless I am ordering salmon or tuna I only have a vague idea of what my plate is going to look like. But with the "Friday's Fish" series this is going to change…
Here you find some trout inspiration…What are your favourite trout recipes?